世界で通用する味の開発にチャレンジするラーメン屋さんをみつけました。
The owner of this Ramen house developed the world taste which is preferred not only by Japanese people but other country's.
らーめん まる玉 | Marutama Ramen
ラーメンと言えば味噌、醤油、豚骨などが日本の定番ですが、濃厚鶏白湯といった少し珍しい味でしたね。こだわりは、ちぢれ麺にもあるようです。
The traditional Japanese styles are soybean paste, soy sauce or pork bone. But, they are too Japanese. So, he sticks to using chicken soup with wrinkled noodles.
世界の店舗ではシンガポール、インドネシア、マレーシア、カナダと展開されているようで確かに外国人にも好まれる味のような気もします。
Now, this Ramen house is also open in Singapore, Indonesia, Malaysia and Canada. They would like this with this taste.
トッピングとしては味玉がオススメです。
個人的な意見になってしまいますが、ラーメン以上に味玉がすごくおいしかったです。
Don't forget to add the topping of boiled egg, which is shown at the picture.
In Ramen house, the boiled egg is not the simple white one. It usually tastes the Ramen flavor, which is called "Ajitama". When you order "Ajitama" at Ramen house, you would get the special egg. It tasted so good here.
あおさも珍しいので少しお高いですがこの機会にぜひトッピングしちゃいましょう。
The topping of sea lettuce, which is called "Aosa" is very unique as Ramen so you should try it. At the picture, it is the green vegetables.
お店のリンクは以下です。
Here is the Link of the Ramen shop.
http://www.ma-rutama.com/
World Speaking APP | Catch Questions
世界でスピーキングアプリ | Catch Questions
Ryogoku in Tokyo is famous place for sumo players.
Sumo players eat alot so food restaurant or gastropub can make a big business there.
東京の両国は相撲で有名ですね。
お相撲さんがいっぱい食べてくれる分、飲食店もここでは賑わっているように見えます。
One of the popular dish they eat is Chanko.
I tried this in Ryogoku so let me report it.
その中でちゃんこのお店に行きましたため、レポートさせていただきます。
Edosawa is the one of the famous places.
江戸沢というちゃんこ料理屋に行きました。
江戸沢
You can choose 2 kinds of soup from 4 options; miso, soy soy sauce, salt and kimuchi.
Please remember Kimuchi is Korean food. If you would like to try Japanese style, I would recommend miso and soy sauce like the following picture.
お店ではちゃんこ鍋のスープに4種類(みそ、醤油、塩、キムチ)より選択できます。
キムチはさすがに韓国系なのと塩味に少しもの足りなさを感じたことから写真のようにみそと醤油を選択しました。
First, you need to knead Tsukune, which is meatloaf with egg.
Don't eat it in raw. After you make that 5 or 6 of small balls, drop them into the voiled soup above.
外国の方はこれをいきなり出されると生で食べるべきものか悩むかもしれませんが、
これはつくねです。5, 6個ボールを作って鍋に入れましょう。
And, here is the marerials of Chanko Nabe.
I would reccomend you drop vegetables first and then drop some meats.
You don't have to drop all of them at once.
ちゃんこ鍋の具材はこんな感じでした。
After you confirm vegetables become soft and the color of meat become gray from red, it is time to eat.
そして、これがいただきます直前の写真となります。
Study Foreign Language | Catch Questions
iPhone アプリで語学学習を目指す | Catch Questions
Maybe, expensive for shaved ice? No, it is worth trying the legend ice in the world.
ちょっと値は張りますが、最上級のかき氷を一生のうちに一度は食べてみたいものです。
The harmony of Jazz and sweet ice will make you gorgeous.
店内に流れるジャズとゴージャスなかき氷の甘さがマッチング。
From one of the famous place in Chichibu Nagatoro
長瀞にきてよかったぁと思う瞬間です。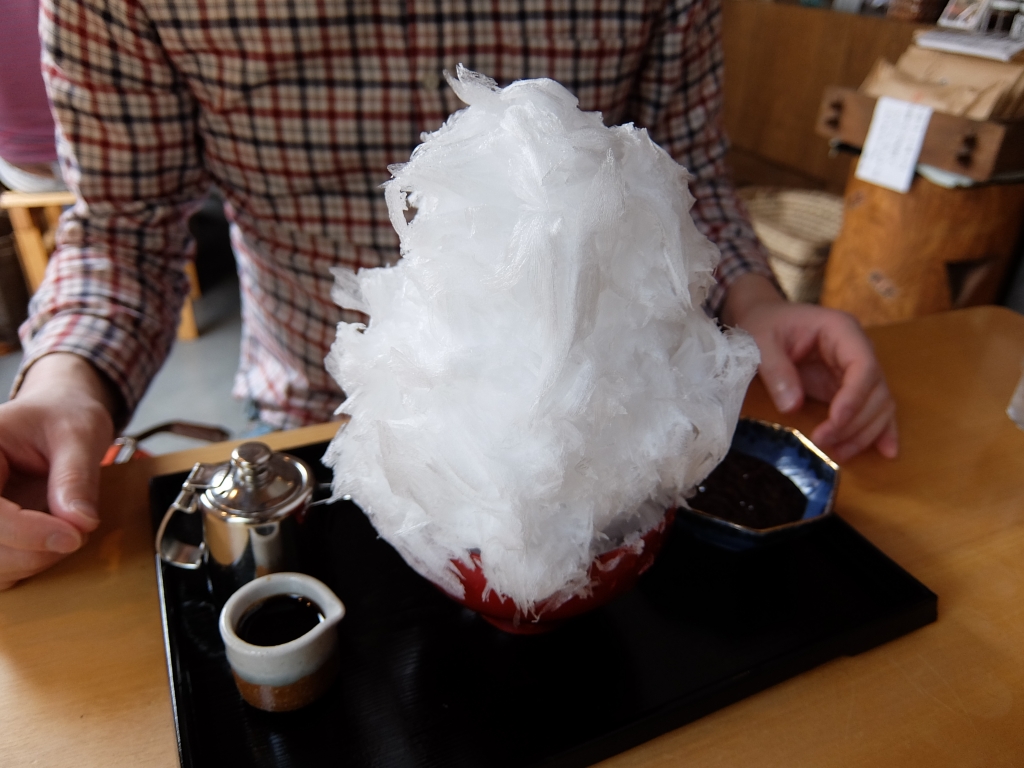 For more information
詳細は以下にあります。
iPhone Words List | Catch Questions
Where should we eat around the imperial place.
It seems difficult to eat there.
皇居の周りってお食事処なさそうな予感ですよね。。
そう感じる方には是非周辺の地下に行ってみてください。
結構お食事処あります。
Then, go to the base area around it.
その中の一件をご紹介します。
One of the place I tried is the restaurant Honno Chotto wich means "a little".
But, I think you can eat enough.
そのお店とは「ほんのちょっと」というお店です。
名前の割には結構ボリューミーです。
Web Site
http://palace.honnochotto.com
I reccomend those who dislike raw dish like Sashimi of Japanese traditional food.
Here is the ground meat cutlet called "Mentikatsu".
If you would like to try more Japanese style, Seiro, Steaming Basket is my recommendation.
iPhone APP for learning Japanese and other languages
Around the Houses of Parliament, Japanese Soba is for you!
The near station is Nagata-chou.
国会議事堂周辺にリーズナブルなお食事どころはないかと探しておりました。
場所は最寄駅が永田町です。
The name of Soba restaurant is Kurosawa.
そこで見つけたのが黒澤です。
http://9638.net/nagata/menu.html
It's a unique cold soba in dashi soup.
We Japanese would think cold soba would be Zarusoba or some thing...
ざるそばと思って注文した冷たいそばはこんな感じでした。
But, this is different.
Do not forget add Shichimi spice.
A little one would be effective making it hot.
七味は忘れないように適度にかけましょう。
You can also enjoy Japanese traditional Tempra here.
ここでは天ぷらなどの一品料理も注文可能です。
To learn Japanese,
here is my web site Catch Questions.
語学アプリにご興味がありましたら以下もよろしく。